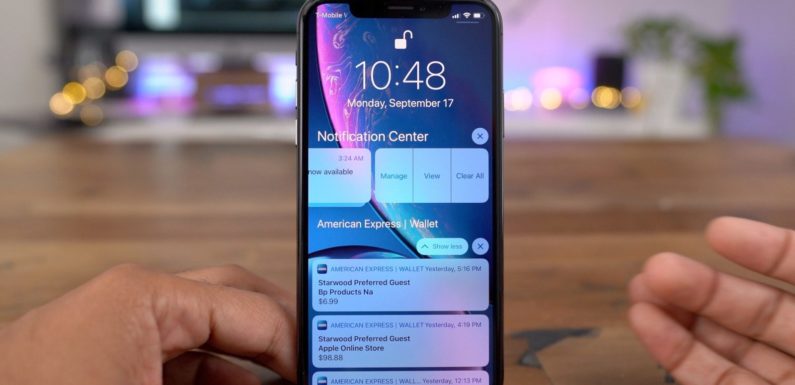 App development has become a business worldwide owing to the increase in the number of smartphone users. With the growth and advancement in modern technologies, app development has become more and more competitive. As a result, app developers whether Android or iOS have to explore, learn and experience refreshing and new things. The iOS app development trends have been significant in the past and will hopefully be phenomenal in the future with more updates and interactive features.
Year 2018 saw the launching of iOS 12 with multiple features capable in engaging users in an immersive way. But with the passage of time, it is expected to bring in more improvements in the services that can attract and retain users for good. The launch of iOS 12 has made iPhone app development service in USA more popular.
Using the advanced features of iOS 12, an iPhone app development company can ensure better performance of the devices and purposeful navigation of the apps to meet the users' aims and objectives.
Let us go through some attributes of iOS 12 which deserve mention for experiencing distinctive services:
Focus on enhanced performance:
Apple has been tirelessly working to upgrade the performance of its earlier versions. It has come up with iOS 12 which is much faster unlike the previous ones. For instance it helps in launching apps 40 percent faster. The camera is opened almost 70 percent faster and the keyboard is shown 50 percent faster.
Apple emphaisizes upon improving the speed and performance without compromizing on proposed quality. iPads and iPhones which are compatible with iOS 12 also have a long battery life.
Screen Time:
The feature of Screen Time is absolutely new for iPhones which comes with the launch of iOS 12. Using this feature will help you to keep a track regarding the usages during day and night along with the duration. Thus apart, Screen Time will also help you to measure how many notifications from each app, how many per hour, how many apps are being used based on categories, how much time is spent on maps and many more.
Thus the iPhone and the iPad users like you can receive weekly notifications depending on their usage habits. This will enable them to make adjustments in their usage patterns, a similar trends like that of Google.
Do Not Disturb:
As discussed above this feature is another new addition of iOS 12 which allows the users to take a break from using gadgets extensively. This functionality is specially applicable during bedtime. The only thing you need to do is to set the mode on so that no chatty notifications will be allowed to show up on the notification bar.
By introducing features like this, Apple is trying to balance the lives of the users in a  healthy and steady manner.
Limiting apps:
Through this new feature of iOS 12 the users can limit the apps' usages. So, for any definite application, the time limit to use apps can be set. So, in case, if you reach the maximum limit, iOS will give you a prompt message regarding the same. If the time period gets over, the users will receive a message- "Time's Up." It will thus help you in limiting your access towards app usages and will facilitate you in attending other important tasks. But you will have the facility to extend the usages of your apps as per your requirement. In such cases also, iOS will allow you to use for the extended span only.
Thus you can see that Apple has taken into consideration every minute details for enriching the experiences of the users.
Grouped Notification:
With the iOS 12, the Notification Center has become a complete user friendly feature. This feature has been improved to fix the messy notification issues that used to disrupt smooth and convenient user experience. Some vital characteristics of this feature are:
Dismiss multiple notifications
Interact with multiple notifications
Work on settings on which apps should send you the notifications
Shows apps which need attention
The Quiet option of the Notification Center will disable sounds which app notifications make
Tongue detection in New Emoji:
If you really want to play with animojis then this feature will be an added attraction for you. Using this feature if you take out your tongue, Animoji can actually mimic it. With iPhone X Animoji was first introduced. The launch of iOS 12 has brought with it new Animojis such as Koala, ghost, tiger, Tyrannosaurus Rex and more.
Group Face Time:
Among the iPhone and iPad users, Apple's Face Time is in fact the most loved feature. In this feature upto 32 users can be connected for conducting video sessions. Both MacOS and iOS users can take benefits of this feature. This feature possesses the following attributes:
When an user is not talking, the window of the video gets shorter
When the user is talking the window gets enlarged
Depending upon the users' requirements Memoji or Animoji can be used
Voice Memos App:
With iOS 12 Voice Memos app can be used in both iPads and MacOS. Using these apps the users can easily share their own recordings across different devices of Apple via iCloud syncing.
The above mentioned features of iOS 12 can help an iPhone app development company to serve the customers better. These apps are more interactive and can be used faster with ease and convenience. Moreover, it also helps the users to perform multiple activities without hampering other tasks.